Hello,
Some people may have expressed some concern over what age groups of people are allowed on our forums, so I thought I'd address that. I write this as
one of the current site co-owners
and that I am the person to authoritatively speak of policy here on TG.
As you know, the primary purpose of the Therian Guide is to educate / Guide people about Therianthropy and how to live with it.
Based on our research, it would appear that most people learn about their Therianthropy around the ages 12 to 15: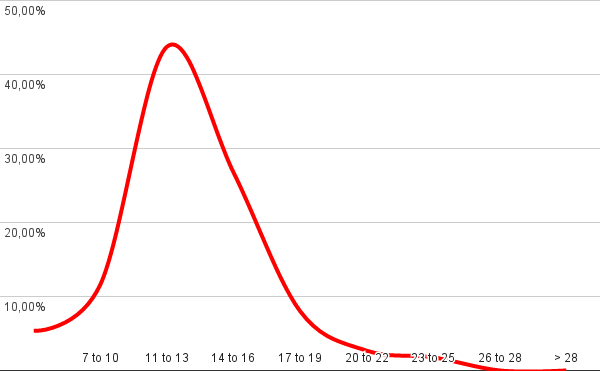 (n = 112;
Source
)
This is the age when Therians discover their Therianthropy. Eventually they wander out to various communities in search of more information about their condition and this includes the Therian Guide.
As the USA, where many of our users are from,
requires website operators to obtain parental permission for a member under 13 to join communities
, which is impractical (and even though TG doesn't currently fall under US jurisdiction), we have as many other online communities opted to not accept children under the age of 13 to our community.
However, as it is our primary function to offer information on therianthropy to those who seek it, and as most of the people looking for information about therianthropy are likely to be under the age of 18, we will continue to make our community available to people of those age groups.
We also have members of other age groups, with the current co-owners of the site being old enough to be parents. I've always seen our ability to get along as an intergenerational community as a great asset. Sure it gets a bit irritating at times when older members talk of problems our younger members are not familiar with -- or when our mostly teenage crowd starts talking about teenage problems on a massive scale... However so long as we all still have respect for eachother? I am sure there is a lot we can learn from eachother.
And it's not like kids are not exposed to adults in daily life.

Not to trivialize the issue too much however, as staff we understand the dangers to young people online. We are also very protective of our members and do not take well to them being threatened in any way. As a certain drama-prone therian meme-star will tell you, we discretely monitor things that go down on our site in order to keep our members safe from predators.
But all that being said. We will continue to welcome members under the age of 18 and any suggestions to limit this differently will be ignored, no matter what levels these one-sided demands are taken to.
Take care everybody.

EDIT in 2018: I guess some people might have gotten the impression based on this that we are all 13. We are not, this chart was made in 2016 and we've gained many older members after that, primarily through the therian IRL meetups we organized.
The staff is now mostly over 30 (because older people are better at this role). There is even one member over 70 in the community. We have representatives of all ages (we also have a special position of pup reps, who are members under 18 who you can talk to, if you feel intimidated by having to talk to an older staff member).
Regardless, please don't sign up on the page and claim to be a 1000 year old dragon or a
greymuzzle
. Be honest about your age, so that people like you can find you and you can make friends.
LP,
Dusty